Two major maritime events take place on the Thames and Medway this year. They are both in their own way of historical significance too.
The first is in April and is at Greenwich on the River Thames.
The waterside town is hosting tall ships for a maritime festival which kick-starts 'their' sailing season. Vessels will be congregating on the river during Easter week. Vessels will be open to the public on specified days – see programme – and there will be river tours (of course).
See: http://www.royalgreenwich.gov.uk/tallships
And: http://www.pla.co.uk/Events/Tall-Ships-Regatta-2017
Best of all, the vessels can be viewed from your own craft if an effort is made to sail up river and berth in one of the marinas available. This is something Whimbrel's crew will be doing. We're planning to go upriver over two days, mid week, and are booked into Limehouse Marina, where the friendly staff were prompt in confirming a booking.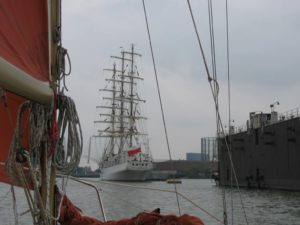 Whimbrel sailing down-river past the Polish ship Dar Mlodziezy in 2014.
The ships are parading late on Easter Sunday and departing around 1700 bound down river to begin their 'race' which culminates in an arrival in Quebec on the 18th July 2017 to honour the founding of the Canadian Confederation.
It is rather apt: above the river, on Greenwich hill sits General Woolf's memorial statue. He defeated General de Montcalm's army and Canada became 'British'…
We shall probably sail down to Greenhithe and watch from a mooring as the ships pass by…
The second event takes place on the River Medway.
The Medway City plays host to a special event marking the 350th anniversary of the famous raid by the Dutch in 1667 when they carted off the Royal Navy's flagship… We were caught, literally, with our pants down. The Great Fire of London had occurred the year before and Government coffers were pretty empty: the Medway's forts lacked enough shot or powder…
The event takes place over a week from 8th to 17th June 2017.
See: http://www.medway.gov.uk/leisurecultureandsport/events/battleofmedway.aspx
And: http://www.visitmedway.org/battle-of-medway
The second link contains links to much information and the planned programme.
There are events at the Old Dockyard, Rochester's Guildhall Museum and Upnor Castle and other places. There is also a river pageant planned and on the final evening a 'river of fire' takes place along the Medway.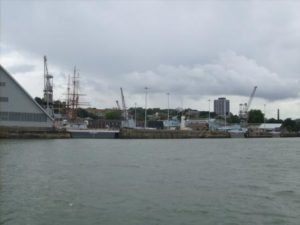 Area of Old Dockyard in existence when the Dutch came. The yard ran up to the Public House below old church on hill by Medway City buildings.
Again, Whimbrel's crew will be on the river, but where, at the moment, I do not know: attempts to pre-book a marina berth or a mooring has met with a 'No' and 'utter silence' from some addressees. Hey ho… But I must say, the Medway & Swale Boating Association (MSBA) have been most helpful – thanks Brian.
However, as the river was my home for over a third of my 62 years and a 'constant' sailing ground throughout, I shall not be dissuaded…