The little ship yard of C. Toms & Son of Polruan down on the Fowey had news of a new Cornish fruit schooner being planned on its facebook page. That's interesting, I thought.
The vessel, a replica of the Jane Slade, is to be built from steel … I wondered if the yard had had a tentative enquiry from the people behind the proposal – the owners of the Bessie Ellen, itself a historic ship. See for information: https://bessie-ellen.com/
And here, for information held by the National Maritime Museum (Cornwall) on the Jane Slade:
http://maritimeviews.nmmc.co.uk/index.php?/collections/featured_pictures/jane_slade_schooner_of_fowey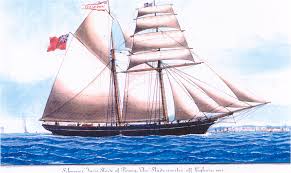 Picture of the Jane Slade from Foweyharbourheritage.org
What is additionally interesting is that this popped up on the 'Toms' site: they've delivered the new spritsail barge Blue Mermaid to the Sea-change Sailing Trust this year and built a silt barge for the Broads.
The broads vessel was a steel 'Wherry barge' for the carriage of silt.
See: http://www.ctomsandson.co.uk/current-projects/norfolk-boards-barge/
A new build has been taking place  for the River Thames Boat Project which works with people with accessibility problems allowing them an opportunity to experience time out on the river. See: https://thamesboatproject.org/
The Thames boat is currently under construction…
See: http://www.ctomsandson.co.uk/current-projects/river-thames-boat-project/
Was it the Blue Mermaid project that kick started all of these for 'Toms', I wonder: previously their core work was fishing vessels (and remains so) if you peruse the firm's web site.
I was interested in the fruit schooner because I know a little about the project to rebuild the Rhoda Mary, a fruit schooner that has rotted away to her bottom timbers on the mud flats at Hoo St Werburgh.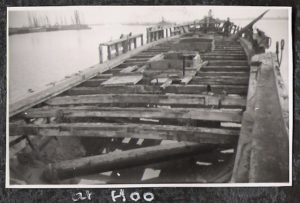 My father aboard the Rhoda Mary in 1951. From Ardley Family archives.
See: http://nickardley.com/the-rhoda-mary/
The plan was to lift her … but now only a part may be removed as a part of the new vessel. Both projects are planned as community projects…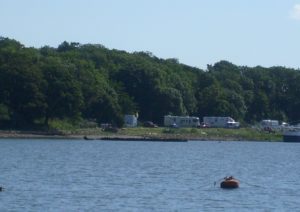 The Rhoda Mary as seen at Hoo some seasons ago…
See: https://www.rhoda-mary.co.uk/
It is clear that the will to keep Britain's marine heritage alive is still strong, thank goodness!