Current

projects

:
Publicity for my new book has been released (20th Feb 2017)
The title:
Rochester to Richmond: A Thames Estuary Sailor's View
This book, as I alluded to in my earlier comments, has been written in a different style. The 'third hand' has been left ashore and the skipper tells the tale in person. The Mate is still very much at my side during the passage and on many shore-side explorations along the way and on past outings …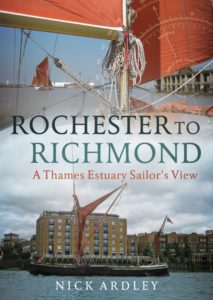 The publicity info sheet is attached…
F040630 Rochester to Richmond Press Release
A Thames Estuary sailor's reflections on the ever-changing riverside from the Nore to London
A book for lovers of sailing amongst salt, marsh and mud
A passage not made within the pages of a book since the 1920s
Beautifully illustrated with modern images from the water interspersed with old prints
Rochester to Richmond is of love and enthusiasm for an unknown side of the River Thames
Blurb:
People say that Nick Ardley is an eccentric, an anachronism from a simpler age, for the way he sails his clinker sloop around the Thames estuary, wending amongst the tide-riddled marshes to drop anchor where the fancy takes him. In Rochester to Richmond: A Thames Estuary Sailor's View, Ardley has a clear plan: a reflective journey between Rochester and London, a path once of commerce, but now pleasure. Rochester was of immense importance to Britain's past trading richness too. The belching chimneys pouring acrid fumes and cement dust have evaporated. Oil refineries have slipped away, but wharves lining the banks remain alive. As a distraction, he wanders a little above Rochester and then again, a little above the Pool of London towards Richmond. Between, he lands amongst the marsh and mud, finding graves and farmsteads enveloped in purslane and lavender. Many towns sailed past were part of this heritage, supplying building materials and food carried by the tan-sailed barge to London. Ardley dips and dabbles into these communities and explores how they have transformed.
Information:
Fonthill Media. Email: sales@fonthillmedia.com Tel: 01453 750505
Publication Date: 27 July 2017
Price: £18.99
ISBN: 978-1-78155-620-7
Size: 248 x 172 mm
Binding: Paperback
Illustrations: black & white plates.
Reviews:
Two very heartening early reviews have been sent to me:
One came from a reader in Eire…
Thank you very much and a big well done to Nick Ardley for the latest book "Rochester to Richmond" which I have just finished. Way "up there" Nick with its predecessors.
I lapped it up. I found myself, like you, thinking in "100 year chunks". We now have the 'old books' (Wyllie, Maxwell, et al) for the early 1900s, and you for the early 2000s.
I find myself wondering whether some future 'ditch crawler' will spot this pattern and feel the need to do it again in 2100 and 2200. It would be a lovely record, wouldn't it?
Meanwhile, we'll have to make do with wondering where you go next – is there another book in the pipeline or the mind's eye yet? I do hope so.
Thank you very much and love to "The Mate", Chris.
Another from a sailor who sails down channel as well as enjoying the Thames estuary creeks and rivers, says:
I've just finished reading your book and I can safely say it's an absolute delight! The information and background to so many otherwise unobserved and unknown spots along both the Thames and the Medway is fascinating.
It's a book to return to time and again.
Thanks again for a tremendous publication.
Kind regards from us both.
My thanks to you both…
From Shipping Today & Yesterday:
In prose he meanders like the rivers and creeks he sails on. The author tracks Britain's industrial heritage and its relationship with its many waterways.
This is a well put together book backed up with good photographs and I would highly recommend it to anyone with an interest in this area.
____________________________________________________________________________
Published Books
Swinging the Lamp – Thames Estuary Tidal Tales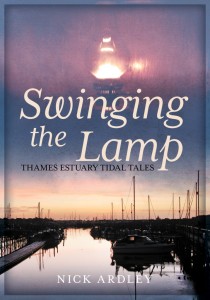 Blurb:
Pure salt water courses through Nick Ardley's veins: he was brought up on a Thames spritsail barge and 'sailed' the high seas on ocean going ships. For many years he's weaved his way through the Thames estuary's tidal creeks and rivers, mostly aboard his clinker sloop, exploring, noting and investigating, with his mate beside him.
The estuary of the Thames is a world of constant flux. It is an artery of modern commerce and archaeology of past industry peppers its rivers and creeks. Flooded islands have become the domain of myriads of birds, nesting on hummocks of saltings and feeding on mud flats. Rotting wharves festooned with bladder wrack alive with life, the time worn ribs of barges the perch for cormorants. Around all of that, man has created new uses for disused lime, cement and brick docks. Boatyards, marinas and waterside housing have emerged like a water born phoenix from industrial ashes.
Wending in and out of this, Nick Ardley weaves his magic, commenting. Beneath Whimbrel's swinging lamp he muses about old souls, the relationship of humble spritsail barge and shoal draft yachts, but all along he is alive with enthusiasm for the environment in this little corner of England…
This book remains available from Fonthill Media, being on their print on demand list.
ISBN: 978-1-78155-498-2
Price: £18.99
Paperback 248 x 172
224 pages.
There are around 30 black & white plates including diagrams, drawings and chartlets. Plus, a colour section of 75 plates.
Reviews
Shipping Today said: 'This is a great read and I would very highly recommend it.'
Classic Sailor has said: 'Reading it is a bit like drifting on a slack tide of a warm windless evening with a beer in your hand.'
Matt Care, a reader wrote: The pages buzz with enthusiasm for his hobby and its people and glow with warm descriptions of cake-and-coffee breaks, some laced with something warmer, or evenings sitting afloat while the slanting sun changes the creamy colour of the hull paint to a honey golden glow. Ahhh. Thanks Nick. You are a genius.
The Merchant Navy Officers Association Telegraph said: 'The Author's evocative anecdotes are enhanced by a selection of colour pictures, together demonstrating why the Ardley's love the delicate, fluid estuary landscape so much. High-quality production by Fonthill Media does justice to the well-written text and beautiful photography, inviting readers to relax and go with the flow.'
The Online News Magazine for the Medway & Swale Estuary Partnership has an exert:
Sitting relaxing one evening in October, the phone rang …
The voice said, 'Hi Nick,  Alan here, just wanted to call and thank you for your book … it's very good, excellent in fact. I love the way you've covered things other people can't be bothered with.
Thanks again.'
Alan was referring to the River Medway and the islands…
That was it. Then he was gone!
From the pages of the Society of Sailing Barge Research magazine Topsail are these comments:
'Nick Ardley's new publisher has brought a freshness of presentation without jeopardising that special spiritual relationship between book and reader.'
'…he discovers fresh pastures and history to keep this reviewer enthralled.'
The reviewer passes a wish for an index, but not at the cost of loss of text.
From London's Little Ship Club:
A pleasing review can be found in the club's online magazine.
http://littleshipclub.co.uk/reviews/swinging-lamp
From the Thames Guardian:
The reviewer did not like the use of the 'third' person … hopefully 'he' will be pleased I've left that period behind now in future work. He said, ' Ardley is a knowledgeable, experienced guide, whose enthusiasm for the estuary is irrepressible …'
From Coastal Events:
A rather nice review has arrived from Coastal Events, the East Coast Guide.Reviewer say, '…written with a wealth of passion and a richness of detail the book brings the East Coast to life in a unique and gentle way…' and adds, 'this is a book that will make you want to go sailing and is a great introduction to the wonders of the east Coast.'
See at: www.coastal.events/swinging-lamp-nick-ardley/
And from the pages of the Royal Naval Association Journal:
A quirky gentle tale that takes the reader to the furthest reaches of the East Coast …
The author can truly be said to be an Essex m …  an expert on the area… His passion for these waters is palpable and he puts this over to the reader beautifully.
And the reviewer continued: For anyone who started their sailing career on these waters it is a trip down memory lane … manages to make you want to go back and take a look with fresh eyes … gives food for thought … I enjoyed reading this book and would thoroughly recommend it.
There are others still to come my way…
___________________________________________________________________________
The Jottings of a Thames Estuary Ditch-crawler, published by Amberley Publishing. ISBN: 978-1-4456-0100-7, £17.99
This book is now also available as an ebook. See Amberley web site or find on Amazon.
The book is available from the publisher's – it is on their print on demand list.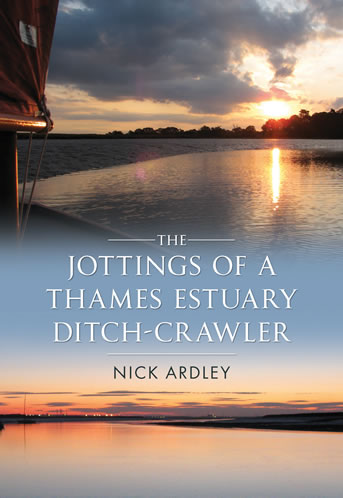 Sailing, boat owning and living on a Thames spritsail barge have coursed through the veins of the skipper's family since the early 1930s, and it instilled in him a profound love for salt, marsh and mud. In The Jottings of a Thames Estuary Ditch-Crawler we find the skipper looking at how it used to be in the early days of Corinthian sailing.
Nick Ardley takes us on another series of journeys in his yacht Whimbrel, through the meandering creeks and waterways that feed into the Thames and its estuary, using his extensive local knowledge to impart a flavour of the areas he visits, with historical interludes. He also details the two craft that he has owned during a lifetime of estuary explorations, with affectionate attention to the history of the Finesse class of clinker-built yachts of which his Whimbrel, a '24', is one. All around the Thames estuary nowadays there are passages that sailors used, many now long gone, silted up or dammed, while the attendant industry along the banks of these creeks and the river itself have also disappeared.
The stories captured between the pages of this book will appeal to locals, sailors, and anyone with an interest in the history and wildlife of the Thames estuary.
---
Mudlarking Thames Estuary Cruising Yarns, published by Amberley Publishing. ISBN: 9781848684928, £16.99
This book is now available as an ebook and is available through the publisher as a print on demand title.
In this charming sequel to the successful local best-seller Salt Marsh & Mud, the skipper and his mate meander gently around the coastline of East Anglia, exploring the marshland from North Kent to Suffolk in their tan-sailed, wooden clinker sloop, Whimbrel. Whether sitting with a cup of tea while gazing out over a peaceful waterway or sailing up between London's impressive buildings, they take the time to look around them and to appreciate the sights, sounds and stories that abound. Nick Ardley lovingly weaves his yarns of traditional sailing with his own reminiscences and detailed knowledge of the places and waterways that they encounter. The numerous rivers and creeks that indent the Thames archipelago hide a wealth of history and nature; this captivating book uncovers a few of these secrets and brings them to life. The stories tucked between the pages of this book will appeal to locals, sailing enthusiasts, and anyone with an interest in the history or wildlife of this fascinating area of the country.
___________________________________________________________________________
Salt Marsh & Mud A Year's Sailing on the Thames Estuary, published by Amberley Publishing. ISBN: 9781848684911, £16.99
This book is available from the publisher as an ebook.
The book is available as it is a print on demand title.
Salt Marsh and Mud – Tales through a sailing year, is a compilation of interlinked stories about cruising around the Lower Thames, Swale and River Medway. The area has been very much overlooked, in the yachting literary world – often derided even – yet it is a fantastic local cruising area, full of history, wildlife and seemingly remote anchorages – far from the madding crowd. The stories are about a skipper and his mate, reminiscing and bringing to life the often barren and empty marshland landscape: the history, often unseen but laying close to the surface, is entwined with what was seen as they went by. Old ports, often many miles up muddy creeks are visited. Dilapidated wharves are met, with ghosts of the past lingering on, some with new life oozing from them, they are often explored too, by the skipper, in a little lugsail dinghy. The stories range from the end of a December to the next December, seeing out a complete year afloat.
____________________________________________________________________________
The May Flower A Barging Childhood, published by The History Press. ISBN: 9780752442259, £16.99
The waterways of Britain have long attracted independent spirits. The freedom of life on the water holds a special allure for many, and come the weekend people all across the country leave behind the drudgery of their everyday lives for the thrill of the open water. However, one family took this devotion even further by bringing up their children on the Thames spritsail barge May Flower.
In this evocative story of his unusual upbringing on the May Flower, Nick Ardley gives us a colourful account of life on the water. He tells tales of places visited, techniques learned and characters met that combine to give a real sense of what sailing can teach us. The skills learned on the water have proved to be highly beneficial for many people in their later careers, while the self-reliance and resourcefulness that often characterises sailors are much-valued attributes anywhere.
Weaving his wealth of barging knowledge into the story of his family's life aboard the May Flower and their great resilience in keeping their barge on the water, Nick Ardley has given us a book that will appeal both to barging enthusiasts and those interested in childhood development.
Continuously in print for a decade…
This book is due for a reprint after some corrections during Autumn 2017.
___________________________________________________________________________