At the moment I am railing somewhat at the dastardly weather we're enduring. We've not had a huge amount of rain, but there has been enough dampness, surely. What we have had this winter are bucket loads of wind, which have also slotted perfectly into the days when tides have been useful. It has been cold over the estuary too, with ice, frosts and snow. I went down to the boat on a bitterly cold day, my hands froze inside thermal gloves. I looked at the poor girl and abandoned her to the biting wind…
The tide's are good next week for a spot of sailing, so, with pleasant thoughts in mind I took a peek at the seven day lottery from the met office. Hmmm!
I shouldn't have got my hopes up: every day for the Thames estuary there are winds in excess of 30 mph forecasted. There is a window … but I've yet to check tide times. Wonderful!
During January, a month when I'm usually afloat anything up to half a dozen times, I managed two sails. They were pleasant. One with my dear wife aboard (She likes to be called The Mate, in boating terms…) and another alone. I feel a deep gloom beginning to settle over me.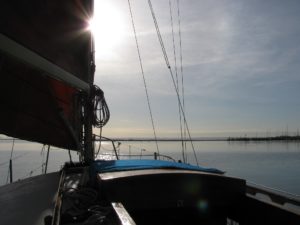 Returning towards home after a pleasant sail in light winds and glorious sunshine…
I haven't dropped into thoughts of 'boat wrapping' and shutting down for the winter yet, but…
On the odd day I have been able to do a little maintenance around the boat – servicing the toilet for instance. Re-bedding rigging U-bolts (I've been troubled by 'rusting' from stainless along plate edges. Lift the bolts and they're 'clean' under. Now trying different bedding compounds … they were 'rust' free for 30 odd years!) and other odd jobs.
Close by me a chap has beavered away all autumn and winter fixing more to his boat. He's not a sailor, but fairly new to the game. I detect a little overload of 'what ifs' hanging in the air and becoming realities. I subscribe much to what I call the 'PBO Syndrome' – PBP being, Practical Boat Owner as espoused by that august publication. Nothing wrong with it, but…
A boat has to be a balance between use and what needs doing to it for sea worthiness. Much can, in all honesty, be neglected waiting for that moment, however there are things that must and should be done. The latter, I will never neglect… People tell me that our little Whimbrel is in fine fettle – they don't see the things I see. That as it may, she's kept in a pretty good condition overall and my Mate and I are proud of her.
As I write, I remember that the decks need a sanding and a good paint this coming spring. Ah, 'Mrs Mate' will love getting out the course sanding paper and, of course, there's her most favoured job, antifouling…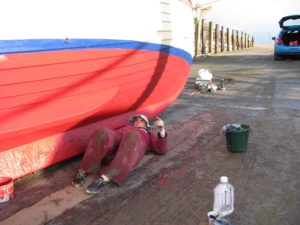 Christobel antifouling, her favoured occupation…
There are a number of craft up for sale in our little end of Canvey Island, as there are everywhere one looks. Is it a dearth of boaters? Is it the fact that buying new from the start is what people want? Or, is it the fact that many of us sailors are aging? And here I shall expand: that flush of 'baby-boomers' who got into boating as spare funds became available are now selling vessels owned for years. I am sure this is part of what we're now seeing.
Some of these craft look tired and a little neglected, but, with a pressure wash, polish and a little loving touches are transformed.
Other craft are sitting pristinely awaiting a new owner. The owner has already purchased his or her new love and devotion is split, usually erring towards 'the fresh one out of the box'. In dribs and drabs a trickle of 'teasers' come for a look-see, chatter about plans and go away, never to be seen again.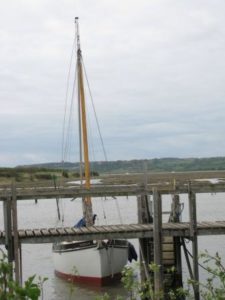 This fine cutter, owned by Dick Durham, is SERIOUSLY for sale. See earlier blog during 2017.
http://nickardley.com/dick-durhams-wendy-may-comes-up-for-sale-in-ditch-crawlers-patch/
The pictured craft, Wendy May. She is afloat at the Island Yacht Club, ready to go…
Personally, I have only ever sold one vessel, having only ever owned two. The second boat has been enjoyed for 35 years now and long may she and her crew continue that partnership. In fact, she, Whimbrel, has been our joint  'second love' for most of our forty beautiful years of marriage… Bless you darling.
Meanwhile the 'old love' gains a patina of forlornness or as sometimes is the case, old craft are left 'rotting' on a mooring. This in many respects is worse, on the pocket, than laying up and forgetting. But, sometimes, it can be the cheaper option. Finally, when the owner has passed away to the Elysian Sea, children who are themselves approaching the age of retirement find that 'dad' didn't actually sell when you thought he had and you're left with a hefty bill and a 'wreck' to deal with…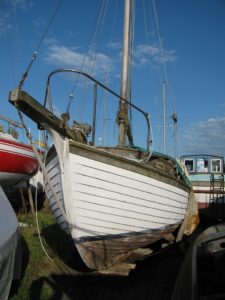 This poor old girl sat for years in a boat yard being weathered into a ruin. Inside her varnish work was good. She's since been broken up – a tragedy. Parts were sold to reimburse the yard of some of its dues…
Recently, the London Boat Show was held at the EXCEL Centre in London's old Royal Docks. A news item caught my ear on the run up to the event's opening. The 'MD' of a swish boat building company was extolling his company's products – good for them – but these were in the upper end of the market. However, overall it was all about new, new, new. The piece left me with a bit of a loathing for this market: yes there are new boats to be had, but surely these are for the experienced boater who has cut his or her teeth on older craft. There was no mention of the burgeoning number of craft in the second hand market…
Remember, if you're selling, consider the market. Look at it. What are similar boats being tagged at. Be sensible. Consider the costs of keeping a boat, unused. Buyers, be serious. Go in with an offer: soon you'll both surely agree a figure.
As a rule I don't attend boat shows: unless you're after a bargain in respect to equipment, they're for dreamers. I liken it to the hosts of people who wander around window shopping as a day out … waste of b- time!
Oh yes, that reminds me, time wasters are prevalent around the water-side too…