Dick Durham who is a member of the prestigious Island Yacht Club based on the eastern end of Canvey Island tells me that he is buying a boat for 'ditch-crawling' – she's a vessel built in 1921 at Leigh-on-Sea. This means his beloved Wendy May has to go.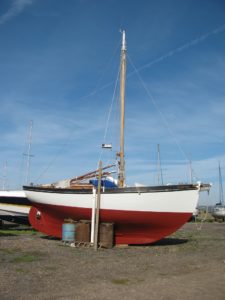 Wendy May showing her flowing lines after a coat of paint in the spring of 2017…
The boat is a 'punt' type and has been carefully maintained over the years.
She is from a Maurice Griffiths design and I feel she is very similar to MG's Seaway design which were built from 25′ up to 30′ – described in '60 Years a Yacht designer' …
She is rigged as a gaff cutter with a retractable bow sprit.
Length between perpendiculars is 25'6″.
Length including bowsprit set is 32′.
Length WL is 23′.
Beam is 8'6″.
Draught is 4'3″.
She is planked in pitch pine on oak frames – copper fastened.
Wendy May was built by Williams & Parkinson at Deganwy, N. Wales in 1936.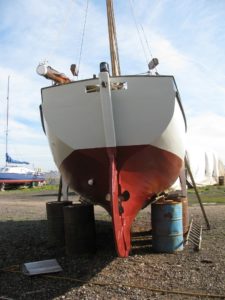 What a handsome transom she has…
Wendy May is now available to interested people at £13, 500.00 and I'm told Dick is open to offers.
The boat is on a mud mooring at the Island YC and can be viewed by appointment with Dick.
Wendy May is a boat best suited to sailing grounds where depth is less of a problem than the Thames Estuary – although Dick's not known to take the ground absentmindedly!
Dick can be contacted on dick.durham@btinternet.com
Tel: 01702 713613.
Go on, you know you'll love her…