We had this in the diary before we'd even left the festival last year, and it will again be entered, hovering over a weekend in September 2018.
The weather for Friday looked a little 'iffy' with rain showers expected (we got some!), but not too windy – but with sunshine forecasted for Thursday, I sped across the Thames on a beam reach all the way into the West Swale, making it from mooring to mooring in two hours  I was going to go into Stangate, but had a free berth…
Christobel, the Mate, was busy with a couple of pre-arranged appointments so came over on Friday by car bring books, table and herself… Only the Cambria was 'in' other than Whimbrel. The harbour Office were taking a run of absences as the afternoon progressed – disappointing!
Friday dawned dry, but showers were expected. My Mate arrived while I was up at the Queen Phillipa enjoying a coffee and pressed the managers assistant to open a decent coffee shop down near the harbour…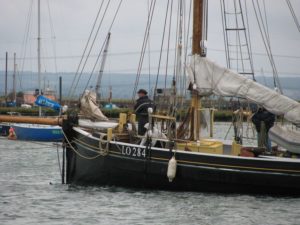 The Leigh Bawley Doris arriving…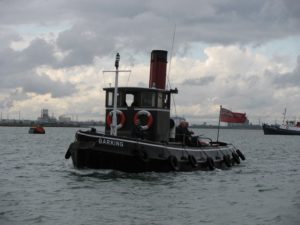 The steam tug Barking arriving with a blast from her whistle.
With fresh stores, I was able to dish up a tasty chicken tikka marsala for our supper before repairing ashore by the liberty boat for a jar at the local micro pub and yacht club (They're mad in there!) but an old friend reserved himself a copy of Rochester to Richmond… Thanks Big Al!
Saturday dawned bright. Immediately after munching a bacon roll I was away in the dinghy for a spin round the harbour while Christobel cleared away.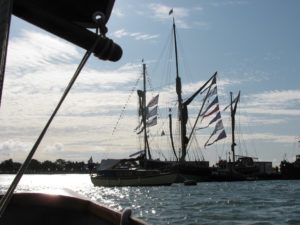 Whimbrel and Cambria in the morning glare…
For once I was organised and flew a banner…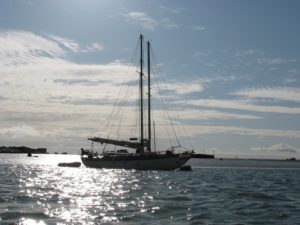 A Maurice Griffiths design with gaff rig.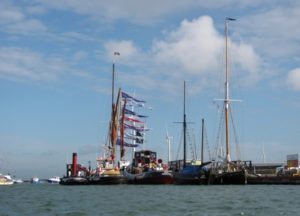 What a splendid sight.
Because the boats that were supposed to be on the pontoon hadn't come, I was given a berth alongside Doris, berthing later in the day. By early afternoon the footfall really got heavy and people began to purchase books too. Christobel had to hightail it back aboard Whimbrel for a steady stream of people wanted to have a look and get 'the tour'…!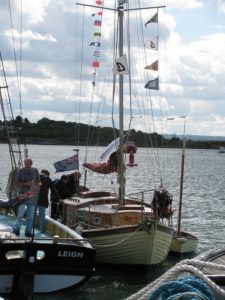 People streaming aboard Whimbrel.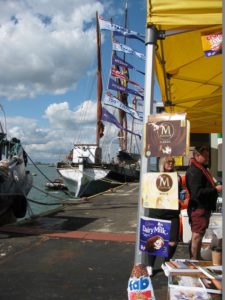 Cambria's transom from my stall… The barge proved to be quite a 'pull'.
A tap on the shoulder while I was talking to a book fan brought me into conversation with a reporter from the Sheerness Guardian. He'd been asked to find me and take a picture of a happy customer with the new book. Grand!
It was so pleasing to meet so many people that have so enjoyed my writing. Humbling in fact. After a recent 'berating' from a single person, I have felt extremely fragile and have currently dismissed thoughts of further writings. One chap said, '…from my first reading Salt, Marsh & Mud, I felt I've know you both and feel I'm sailing along aboard Whimbrel…' and another lady said how much she's enjoying all the books… I must admit a little tear developed when I told the Mate. Ah!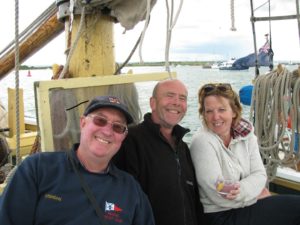 With Denis and his sister Terry aboard Doris…
Sunday dawned and it was time to high-tail it back across the Thames: wind was expected. And now moored awaiting tide, it has arrived.
I waved the Mate goodbye…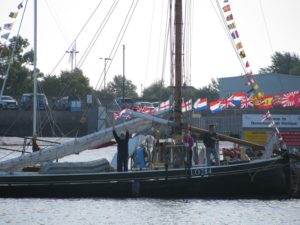 Mate Christobel's customary two armed wave…
Approaching Queenborough Spit I spotted a boat which had tacked soon after rounding and apparently west bound – strange I thought. As I passed the spit buoy the boat came round again. A lone chap called out, 'Hi Nick…' then, 'how old are you?' (!) I answered and a conversation ensued. It turned out the man is Peter Parsons (known as The Vicar! from his days working on the rebuild of the Mirosa). He met me when I was eleven at Twinney Dock on a visit to the May Flower. A blast from the past. He then went on to say that he'd been looking out for me: he wanted to pass his thanks for all the books he's enjoyed – now this has happened around ten times this summer. Very touching and as per I've said before and I humbly thanked him.
As we parted Peter called out, 'hope to meet for some tea soon … I'm at the Medway Yacht Club…'
I snapped Peter's boat, Grey Lad, as we went away in opposite directions. Sadly, he'd said, his Mate no longer sails … she's suffering from Alzheimer's disease… His wife had been his sailing partner in the manner of my Christobel…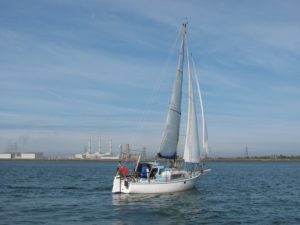 Thank you Peter, should you read this.
It was a great sail across with an hours ebb on way to Grain Flats and dead water most f way across channel…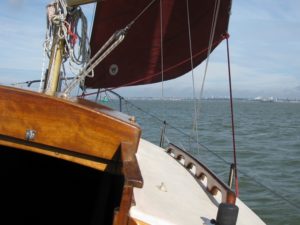 Shooting past the Mid Nore Swatch…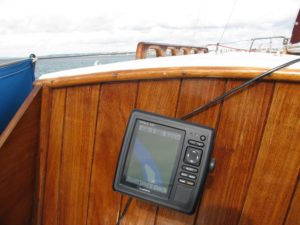 6.7 knots heading into the Ray Channel…
And, the seals were basking on the sands to watch me past…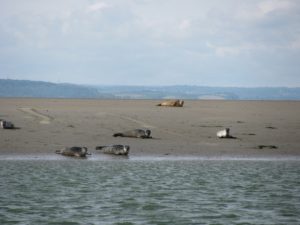 A Great Weekend. Thank you Queenborough Harbour Trust. And, you are always so helpful…