Although we lived on Canvey Island for some 23 years we had never walked 'out west'. It was until recent times open farm land – grazing in the main – but a few years ago the RSPB got their hands on a section. A scrape or two has been made to create shallow freshwater pools for birds. Paths have been laid, friendly for wheel chairs and the like, and signs erected etc…
Finding the info for the site, I worked out a round route taking in the reserve, sea wall along East Haven Creek, Holehaven and across the old Occidental site where there is a bug reserve. So, on a rather cold and windy day clearly unfit for sailing, we set off with a picnic and a flask of soup!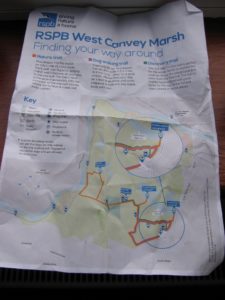 A slightly crumpled map of Canvey West RSPB Reserve.
The RSPB car park is free of charge – a good start. Setting off to pass close by where a farm once sat, Pantile Farm, where there is said to be some remnants, we walked quickly along the 'sweet' hard and smooth finished surfaces. Reaching the site of the farm, nothing was observed to be 'remnants', but a viewing platform sat alongside a 'scrape'. Not a single bird was using the area! Leaving, we ignored round routes, and reached the sea wall. We had seen one bird, a gull, which squawked a wheeled above a group of walkers with dogs…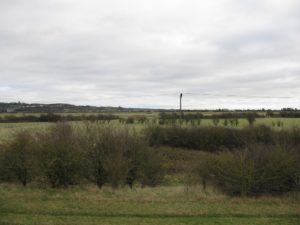 Looking back across the RSPB reserve.
The tide was on the ebb. In fact the creek was emptying fast. I gazed upon a stretch of water and mud I'd never before set eyes upon. It struck me as being rather narrow and I wondered, aloud to the Mate, about whether or not that it would, in fact, close off one day  – probably near the sharp turn by the A130 road bridge, away in the distance in the plate below.
Looking north up East Haven Creek.
I wondered too about my father sailing round here in his father's last boat Lynette, a 24′ (roughly) Bermudian cutter. Christobel asked if this was where the once a year dinghy 'race' took place. Well, obviously! It is something run by the Island's sailing clubs and one can row or sail, or both…
Shortly after beginning to trek southwards a huge flock of lapwings (peewits) took off from the saltings opposite us in a massed cloud of dark lazily flapping wings. Their cries were clearly audible, against the wind in our ears. Along the creek's banks, other waders were feeding, clearly taking advantage of the freshly tide washed mud.
Stopping briefly where a piece of land sat within two sea walls, indicating a growth in 'inning' many years ago, I spotted what looked like refuse type surface on a patch of saltings that clearly sat above the areas around.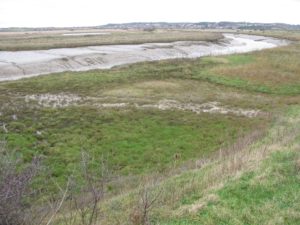 Old Wharf remnants?
Wandering over the area, the surface had chalk and broken pottery within it. I could not discern any remnants of post tops or the like, or in which way the wharf 'ran' i.e. along the creek's run or at 90 degrees as found in many places. Northwick farm sat a little further inland and a map produced by the local historical group showed nothing to that farm's north.
Later, at home, I carried out some research and found old maps showing a wharf, where found, and a farm – Tree Farm. The farm appears to have been disused by the time of WW2.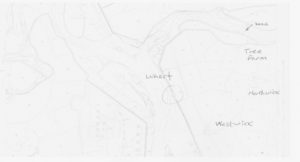 Section of OS map of West Canvey and Area from 1913 – National Library of Scotland. (Apologies for quality…)
The dock I am discussing is at the top of the plate. It ran in at 90 degrees to the creek's run – this was common on various maps over the period of around 100 years. Clearly it belonged to Tree Farm. Interestingly there was once a small settlement on the Pitsea side – called East Haven, with a wharf. This will be under the huge pile of rubbish that fills Pitsea Marsh!
We stopped by East Haven barrier for our picnic, using a flat concrete wall for a perch. Sadly, others had too: their rubbish lay strewn about…
Leaving, we moved onwards but by then bordering Holehaven Creek. I looked up towards Pitsea Barrier, a place I've a hankering to pass through under sail! The creek is nicely posted by a series of port hand buoys: tugs and compacted waste barges come this way. Out on the water and along the mud edges a menagerie of bird life fed and 'chattered', ignoring our distant intrusion. There seemed to be a lot of small duck too … so different to the so called reserve!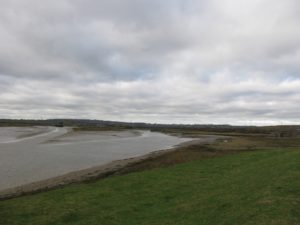 A view up over Fobbing Horse (lower), Pitsea barrier and to the rhs, East Haven creek's juncture with its barrier.
Beyond, in the distance, was what was clearly a derelict wharf. It wasn't shown on the current OS map, or the historical sheet… The wharf lay upstream of where a farm settlement once sat – Westwick – I later found. It sat west of Northwick Farm (still active), whilst Westwick was to the south-west, level with the northern tip of the Upper Horse. The wharf was marked on the old maps I found and once seemed to have had a tram way linking it to Northwick.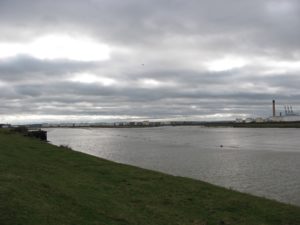 Looking down Holehaven Creek past old wharf with Holehaven upper horse in distance.
Inland of the derelict wharf the land had been infilled to a level far above where the high tide line was on the outside. Something to look into!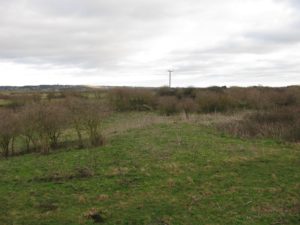 A strange landscape wit chunks of concrete protrude from the rough grass and bushes, met our eyes…
It was chilly, but the sun eventually came out giving some pleasant warmth out of the wind. After passing a more recent disused wharf, once part of the Occidental Site (A disused and unbuilt refinery from the 1950s), we made our way inland through the old tank farm layouts and road system of the unbuilt refinery. Here, various forms of bug life have been found. It is home to the Carder Bee too. The land was reclaimed with Thames silt and it is thought that this provided the base for a unique habitat. It has become a SSSI – Canvey Wick Nature reserve. It seemed to be mostly 'peopled' by dog walkers with various levels of leavings, bagged or otherwise … something that is so common!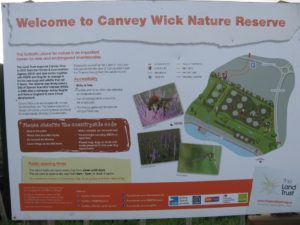 Canvey Wick Reserve notice board.
The car was soon reached … but did we enjoy the walk?
The Mate said, 'Apart from finding the old wharves and strange infilled land … it was boring and full of nothing…'
I have to agree – although I enjoyed seeing where my father, with his friends, and my grandfather once sailed. many years ago, told about in Mudlarking, I described an occasion my father put his dad's boat up on the mud some way west of Benfleet Bridge. he and his mates had to dig her out. A picture tells a thousand words!
On the way over the Benfleet bridge, I mused upon my father and grandfather sailing through the old opening bridge … a bridge I have rather vague memories of.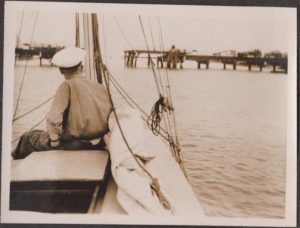 Grandfather's converted whaler, Goblin, about to pass down through the original lift/rolling bridge in late 1940s.
Such a crying shame a lifting bridge wasn't built as a replacement…