One of the joys of cruising the east coast is the way one often meets with old friends. These may be people or craft in my mind. Here though I shall specifically refer to various craft met before.
One of the places I really enjoy is Woodbridge. Not for the town alone: along the shore of the upper river sit old friends. Some will be on the move at some stage soon for in one case Cachalot, a cutter built in a wood yard outside Folkestone, Kent, during the Boer War is nearing a decade long rebuild. I first met this vessel some four or five years ago and wrote a little about her.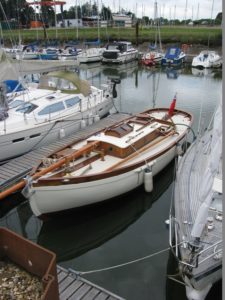 Cachalot … shortly after being launched at Woodbridge.
Her old name board in a pile for disposal…
Cachalot is broad in the beam displaying very much an air of work rather than pleasure for the period when built…
Whilst in Woodbridge, I rounded up a fellow Finesse owner (of Faith) to assist in moving Cachalot's mast into a covered area. We were rewarded with a lovely fresh coffee and choc biscuits! The owners are hoping to have her rigged out before the end of the year – she can be seen at the Tide Mill Marina.
Up on the same piece of hard standing I came across another boat which has lain abandoned for around a decade… She is unlikely to go anywhere now. She's a ply version of a well known west country inspired gaffer.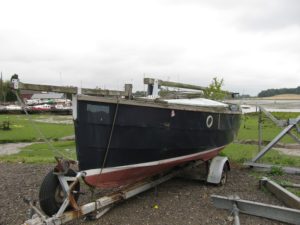 She doesn't look too bad from this angle, but look closely…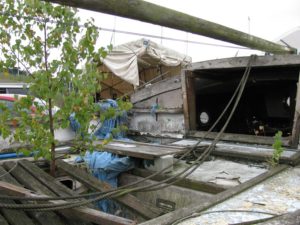 Within her cockpit are several saplings growing quite happily, feeding on rain water and 'nutrients' from rotting wood!
A little further upriver from the marina my good Mate and I went to look at a Finesse 24 we knew has been sitting out of the water for a number of years. She looked sad, but some marks indicated something was possibly happening – paint had been scraped away to expose planking… I went in search of the yard manager who I've chatted to on various occasions.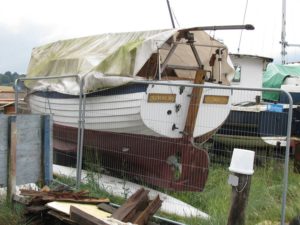 Mackerel Sky…
The boat, Mackerel Sky has been recently purchased by a new owner who has instructed the yard to provide a schedule of work that requires to be done. Good news indeed. This boat was for many years moored close to home, at the Benfleet YC before going up to Norfolk…
After a little while we pitched up in the Walton backwaters. On a visit to Titchmarsh marina to clear three loads of laundry from our 'bilges' and, being weather bound too, I wandered across the marina's yard to look for Halda, a Finesse 24 dating to around 1972. She was a 'gaffer' and has lain abandoned for around fifteen years, mouldering and rotting. There are many useful parts still fixed in place.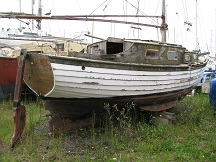 Two views of Halda…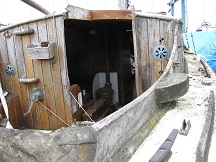 The boat's name came from a corruption of the names of the original owners.
Talking to the yard office, I discovered that this is likely to be my last acquaintance: she is imminently due to be cut up and burnt. Christobel, Whimbrel's good Mate, asked to have a look. I watched, surreptitiously, as she stroked the boat and mouthed some unheard words.
Goodbye old girl, 'fond' memories…