In the past couple of weeks we have been subjected to a few cases of poor etiquette, so it has occurred to me that perhaps this is an area of sea going lore that is on the wain, or sadly, has died.
Currently we are sailing on the River Deben. We had sailed up to the road bridge by Wilford Quay and pottered back to clear Woodbridge under mainsail and a little engine … clearing the town we were soon sailing properly, munching on cheese sandwiches. The Deben was looking glorious with a good sprinkling of craft proceeding up and down.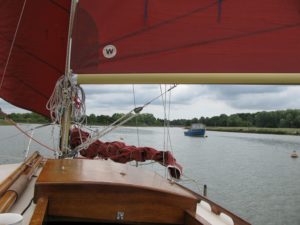 On the way up to Wilford Bridge…
After passing through Stoners Cut and heading down into the Rocks with wind on starboard I was forced to let fly jib sheet to luff up round a channel buoy as a twin masted yacht sailed on, regardless, on port tack with bags of space to his starboard (he was cutting buoy…). He waved apparently as he passed. I scowled. My Mate said, 'You weren't happy about that…' An understatement!
I could have tacked earlier, but why should one have to guess a persons stupidity…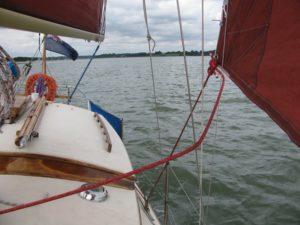 Sailing through Stoner's Cut…
Anyway, the sail down to Felixstowe Ferry was without further incident…
The next gripe happened at Brightlingsea.
We'd berthed earlier and were having a pre-dinner glass when a commotion outside caught my attention. A motor cruiser was coming in down-wind with a young lass on the down-ward sloping deck trying to get ashore, opposite and astern of Whimbrel.
It all went wrong and the 'river' went 'full' ahead to try and turn. It was all far too late. His bow struck the pontoon and his stern wacked our stern mounted ladder, bounced and came down on the edge of the aft plank lands…
Ladder is now slightly off-set. The damage to transom, a dented plank end and cracked paint line has been repaired. Dent will always now be there.
I had to instruct the crew as to how to get themselves out of the mess whilst fending there craft from Whimbrel. He went to operate his engine. I stopped him: his out-drive was under our bilge…
They sorted themselves out. We waited for a visit. We waited a little longer. Eventually around 30 minutes after they had got safely moored we went round for a chat … to cut a long story short, I left the owner under no illusions as to what he should have done (in the nicest possible way) – pop round to other boat and apologise and ask if all is well.
He said, 'I was going to come round…' Yes, well, I don't think so…
The last, which has hurt a little, was spotted on the noticeboard of the Colne Yacht Club. An advert with a picture of Whimbrel was advertising 'her' for sale. The picture wasn't credited, but it at least said 'like' in a description of a vessel for sale.
I phoned the chap up and invited him to come along to the Finesse Rally evening at the CYC the coming Saturday – he said he would.
When we met he did apologise for using the picture … what he didn't tell me was that the advert is posted at other yacht clubs, or, to me what s more unsavory, is on the web based Apolloduck sales site… The picture is in colour and clearly Whimbrel. There is nothing to say that the pictured boat is not the vessel for sale.
See: https://www.apolloduck.com/boat.phtml?id=529810
Never mind copyright rules … I'm close to being incensed.