'Let's go to Bridgemarsh,' I said to my Mate when planning our last few days on the Crouch and Roach. Bridgemarsh marina (boatyard) sits up the named creek inside Bridgemarsh Island which was flooded many years ago. It was once farmed and also had a brickworks. The old hard still runs across. The island is owned by The Bridgemarsh Island Trust and is a 'no go' area…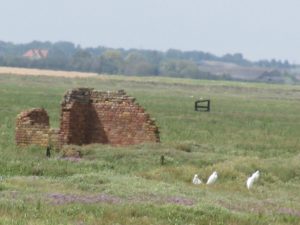 Some of the remnants on Bridgemarsh Island – close to the old crossing.
We were in Yokesfleet Creek where seals abound, and oh what wonder the little pups are! So, leaving under our jib the next morning, we had a wonderful sail out into the Crouch and up past the fleshpots of Burnham. Approaching Bridgemarsh Creek the jib was dropped and we puttered in under the diesel and rounded up to a vacant berth.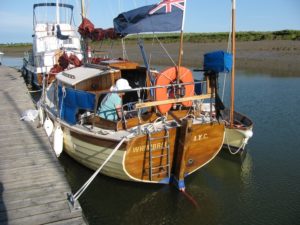 Whimbrel comfortably berthed…
Later we found that there is actually a designated visitors mooring at the top end of the first outer pontoon, however, the yard were content with our chosen slot – the cost for a 24-footer a mere £7.50…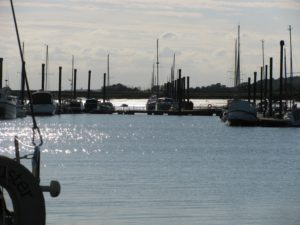 Looking up the 'middle ground' between outer and inner pontoons at lower end of complex.
There is a clean and serviceable toilet and shower block over the seawall near the office and upon a converted lighter is a marina bar where fine local ales can be enjoyed, plus food is available. The atmosphere is relaxed and friendly – no sharp suits in this place! The owner has his own boat at the yard – a giant of a ship moored next to the old hard running across to Bridgemarsh Island.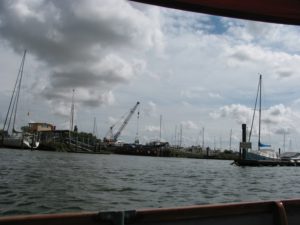 Owner's boat, the club-ship and yard area.
We went for a potter up the access lane and found it to be lined with fruit trees – 'wild' plums we thought after tasting them. The fruits were the size of large cherries, however, the taste was of plum. A lady we spoke to, a tattooist, said there'd been recent speculation as to the fruit's identity  … Christobel would have picked a basinful if jam making was easy on our Whimbrel … the lady said she was planning to make some with a granddaughter.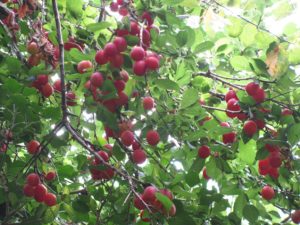 Delicious fruits for the taking … there were some golden yellow too.
My Mate returned to the boat whilst I wandered. The yard held a mix of sailors and motor craft, but what took my attention were a few oldsters chocked up and clearly in use as 'weekend retreats'. It ran with the easy-going feel of the place and friendliness we met at every turn.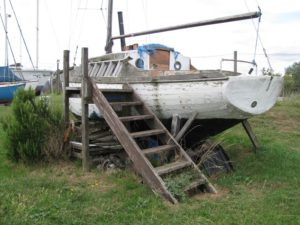 This old girl has the look of a 'Rositer' I felt…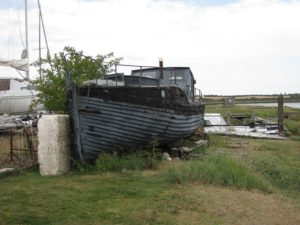 I stood wondering what ship this had come off, how long ago it was and what joy she had once given a 'youngster' with his or her first little ship – a rison – from a bygone age.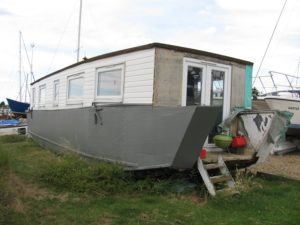 Then I came across this relic. A WW2 landing craft capable of carrying a jeep and a bagful of troops – what of her history?
There were two other craft of interest too. An old 'Dutchman' built of wood and a Seaking, once owned by the yard manager (John). It later transpired, when paying our dues, John once owned Pippit, a Finesse 24, some years ago. 'Had her for around three years,' he said, '…a lovely boat…' We know Pippit and her crew…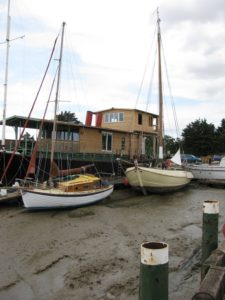 The 'Dutchman' and the Seaking.
Departing the next morning under jib, bound for Burnham ready for a jump to the Blackwater, I 'caught' the entrance beacon and the line of three buoys under the starboard bow…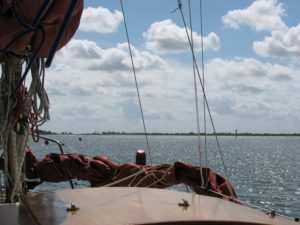 The creek's markers…
We both thoroughly enjoyed our short stay and would go back again. John and the 'crew' were extremely helpful, friendly and the ethos ran through the place, even to the bar where we were welcomed. And, local Crouch Ales sat in barrels on a shelf. Lovely…