Well, what a week we had here in the southern foot of Essex. Temperatures up to 18 degrees and another dry period. Having not got a lot of sailing under my belt so far this season (I was out of it for February due to illness!!) I sneaked out for a couple of hours last Monday.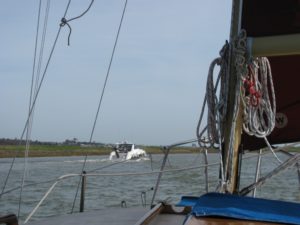 Reaching back down Benfleet Creek, home-bound, last week…
Returning to my mooring, I began to get going with damaged varnish work. Various areas of beading along bottom of cabin sides and the front of the fore cabin top needed sanding back. By the time I left the boat some had had two thinned coats applied.
I recently came across a British paint manufacturer based near Maidstone. I'd gone looking for an alternative to my usual antifouling paint (Hempells) being unsatisfied with its ability to keep even a modicum of barnacles off the boat's bottom.
Premier Marine Paints Ltd has a semi hard antifouling paint which is high in copper yet erodes. It is specifically suitable for craft that sit in mud berths. The additional hardness is said to help prevent mud impregnating the paint. It says, 'all year protection', rather than 'season'… I will report when a year has passed by.
I obtained a pot of varnish too, being willing to try something different to my usual Blakes Favourite. I didn't get on with a supposed 'up-market' jollop a couple of seasons ago, so am trying Premier's Classic Yacht Varnish. I've applied it to my cockpit insides and was surprised at the ease of which it went on – being smooth flow and it allowed over brushing without those customary tell-tale brush marks, when checking for an odd run… I found it touch dried quite quickly too.
I'll report, but bearing in mind I only varnish the insides of my cockpit every 4-5 years, it'll be a long one. I've been using it thinned with white spirit to build coats on stripped areas, usually 3, before applying full coats.
The Mate has been programmed for a day of sanding the cabin sides ready for a full re-coat as soon as a good period arrives soon. She grimaced: she hates sanding…
During the rest of that week I watched the tide come and go as I got on with it, sighing at the missed sailing, but, as my good Mate said, 'You have to do what you have to do…' Yes, well. What's needed is a maintenance free coating, but not GRP!
See Premier Marine Paints at: www.premiermarinepaints.co.uk
Incidentally, if you loved the beige deck coatings once produced by the 'big two' yotty firms, then Premier still do the shade … I've been mixing my own shade for several seasons now using humbol deep red/brown to achieve this from Blakes 'Cream' which seems to have a 'green' tinge to it!
I hope all you folks are hard at it too…