Last week on holiday in East Sussex I had a free few hours and had a gander around Rye Harbour sniffing along the water's edge. The Mate was otherwise engaged, so I was alone.
The fish quays along by 'The Salts'  in Rye Harbour were busy with boats. I watched as one boat lifted some trawling gear aboard using her own gear. This area of the waterfront has been concreted with a new sea defence along the quay edge. Even the fish buildings are relatively new and it all displays an aura of general well being.
Close by I stumbled across an old ferry cottage as I headed towards an area I spied moored craft. One of the craft I came across was an upturned skiff with a high rise to her forefoot – I wondered if she is an old ferry boat?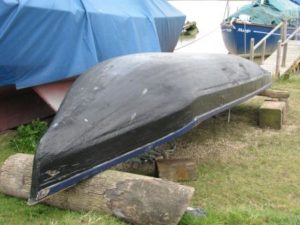 Is this an old ferry boat?
Along the front of a yard I entered were a number of yacht moorings with staging finger berths very mush like my own in Smallgains Creek on Canvey Island. These though came back to a grassed fringe which was at the time being lapped by a spring tide. That tide was only a few centimetres from wetting the yard itself…
My attention as always seemed to stray towards the more desperate craft as I turned a corner from the Rother along the channel that leads up to the town's quay or strand. The moorings in this yard were of a dubious form of construction and wouldn't have passed a fitness test at my club!
here are some of the craft seen…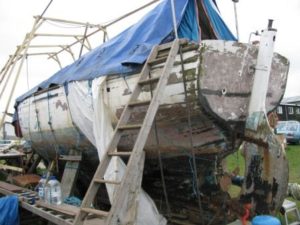 This poor thing without even a name seems to be one of those projects. The general ambiance was of 'abandonment' sadly!
This one has had radical surgery!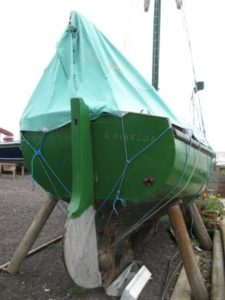 My heart was gladdened when I found this sweet thing. Clearly cared for and awaiting her antifouling paint…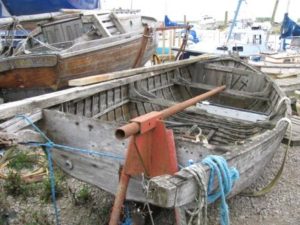 I next stumbled upon an old beach boat which has fished for her last catch…
Next to the beach boat was a sweet little shallow draft cutter which had received some rudimentary work some time ago, years even, but had that look of dejection…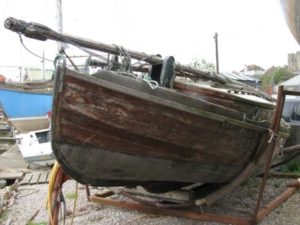 Will she feel the sea again…
The boat had a rather natty curved front to her raised hatch works, something reminiscent of a bygone age yet in its way way ahead of its time what with the way glass fibre is moulded.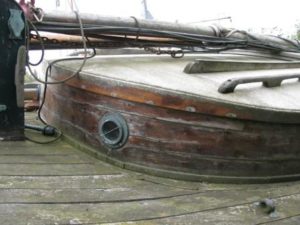 The curved front to cabin top… note laid decks too.
I removed myself from this 'nameless' yard and continued upstream towards the Strand. On the way I came across an 'abandoned' yard. Within a wide open slipway sat a poor little plywood sloop looking somewhat forlorn.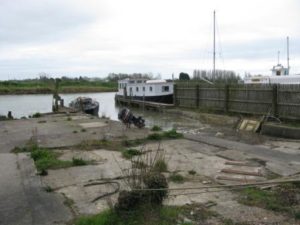 How many clubs would love such an amenity?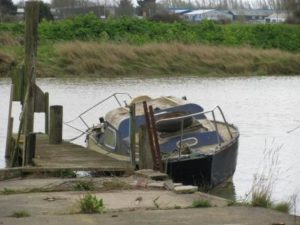 Awaiting the breakers perhaps?
I then passed a yard which had been locked up by a debt agency, however, I hopped over the chain and explored! It too had a now disused slip…
Inside were a couple of chopped fishing vessels for sale! And of interest was a Eventide which had a distinct resemblance to a boat I knew at my own club some years ago – Patience of Job she was called. I couldn't find a visible name: he transom was 'buried' in stuff.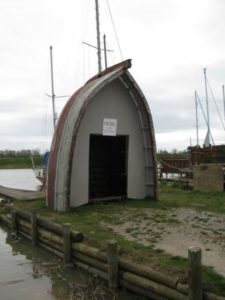 Yours if you want her!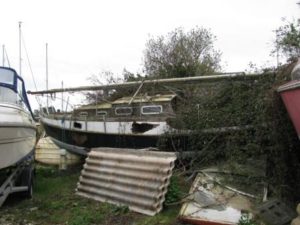 Is this a boat once known as Patience of Job?
Further round my walk I passed by a yard which had an aura of respectability and vigour. It was clean, tidy and business-like. What a pleasure. The yard is  known as the Fox Marine, after the owner. I got chatting to two chaps who'd just finished a break. They knew what a Finesse 24 was and one commented. 'Nice boats…' I glowed! And they welcomed me to potter around…
The yards moorings were clearly well maintained. They use a pump to flush the berths on a rotational basis and lift the boats one a year for a pressure wash as part of the mooring fee (around £1000/year). Apparently many of the boats take part in regular racing out in the open sea down river. The yard have even opened a little club-house for owners to meet in…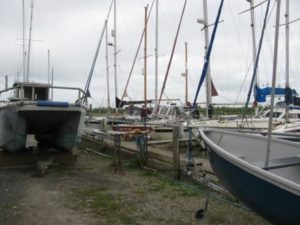 Two pictures of Mr Fox's yard in Rye – a pleasure to visit!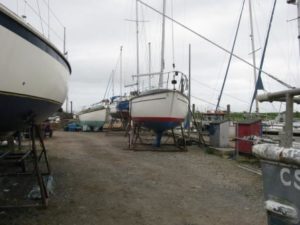 Finally I passed by some waterfront works that were in the fro of redevelopment – I suspected housing… At the edge of this area,  by the junction of the River Brede (To Winchlesea) and the River Tillingham which runs past the strand, I spotted another derelict…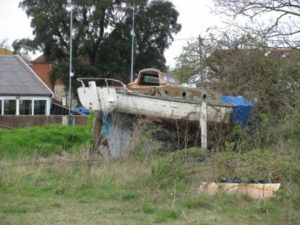 Bonfire job, probably!
I then made my way back to my good wife and tea, not bad for a 'No Boats' holiday…