Essex Book Festival 2018
Some while ago I was asked by the chair of the Essex Book Festival to participate in the 2018 programme – silly to say no!
Nick Ardley is honoured to be participating in the 2018 Essex Book Festival.
This event is probably the most prestigious of any in the eastern part of England, attracting quality, serious writers.
I will be talking about Rochester to Richmond: A Thames Estuary Sailor's View, read some extracts and answer questions.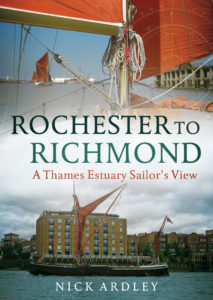 Venue: Canvey Island Library
Tuesday 20th March 2018 @ 1930
Price: currently unknown (c. £5 to £10)
Tickets: Mercury Theatre, Colchester, Tel: 01206 573948
www.mercurytheatre.co.uk
Canvey Island Library from January 4th 2018 
What the publisher said:
A book for lovers of sailing amongst salt, marsh and mud.

A passage not made within the pages of a book since the 1920s.

Beautifully illustrated with modern images from the water interspersed with old prints.

Rochester to Richmond is of love and enthusiasm for an unknown side of the River Thames.
Blurb:
People say that Nick Ardley is an eccentric, an anachronism from a simpler age, for the way he sails his clinker sloop around the Thames estuary, wending amongst the tide-riddled marshes to drop anchor where the fancy takes him. In Rochester to Richmond: A Thames Estuary Sailor's View, Ardley has a clear plan: a reflective journey between Rochester and London, a path once of commerce, but now pleasure. Rochester was of immense importance to Britain's past trading richness too. The belching chimneys pouring acrid fumes and cement dust have evaporated. Oil refineries have slipped away, but wharves lining the banks remain alive. As a distraction, he wanders a little above Rochester and then again, a little above the Pool of London towards Richmond. Between, he lands amongst the marsh and mud, finding graves and farmsteads enveloped in purslane and lavender. Many towns sailed past were part of this heritage, supplying building materials and food carried by the tan-sailed barge to London. Ardley dips and dabbles into these communities and explores how they have transformed.
Books will be available at the event.
https://essexbookfestival.org.uk/booking-details/
www.nickardley.com