Season's greetings to all…
A friend up the road in Daws Heath sent me a young fir tree to haul aloft. Chap, John, used to grow trees but has long since ceased, but his land is 'loaded' with various trees and saplings. He likes the idea of a tree going afloat.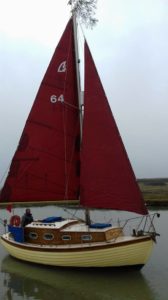 Whimbrel taken by a fellow Finesse 24 owner, Rob Hardy. Thanks Rob!
And, here is the young tree from the cockpit – many thanks John.
Whimbrel's festive cheer.
Whatever your interests, may we wish you all a gloriously happy Christmas and a peaceful and prosperous New Year. God Bless.