Well before the 'sailing season' my good Mate, Christobel, saw a piece tin the Times about an upcoming exhibition about Nelson at the Castle Museum in Norwich. 'Let's go…' I immediately chirped, adding, '…we can stay overnight.' So we did.
Earlier this week we set off up the A12 and took the long route to Norwich passing through all the coastal port villages on the way, stopping short of Hunstanton  before dropping down into Norwich via Nelson's father's church at Burnham Thorpe…
Blakeney was our first stop. Beautiful, but we got fleeced for a short period of parking…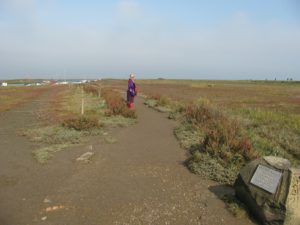 Walking along the John Wallace causeway at Blakney…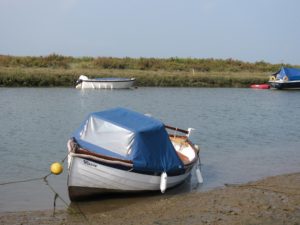 A Norfolk Mussel Boat
Chatting to the owner of a little motorised launch with a tasty fore and aft shape I learnt that she was a copy of a local Mussel Boat. There were several others on moorings, but rigged for sailing. The owner was also a skiff rower and had done the 'Round Canvey Island' jaunt during August. He complimented the Island YC in particular for its welcome and care…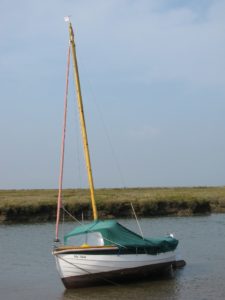 Sailing version of 'new' boat.
Then we stopped by at Wells-Next-The-Sea (or Far-From-The-Sea) after passing through Stiffkey where a boat rehabilitation trust is based. It is interesting to see how far the tide has receded at Stiffkey – its very name indicating a corruption of a maritime past. The tide though is gradually coming back in…
Wells is a true tourist rip off place, especially with regards to parking – we beat a retreat fairly quickly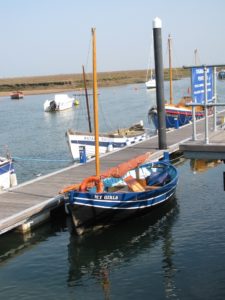 In Wells, I spotted a boat that looked like the original of the little mussel boats seen a little earlier at Blakeney. Moored on the same pontoon were two old RNLI Lifeboats which have been restored. A board tacked to the side of a Fishermen's shed gave some details…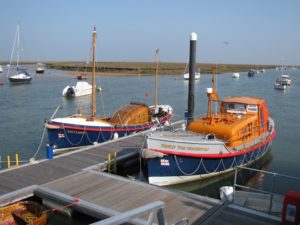 The Lucy Lavers and the Ernest Tom Neathercoat.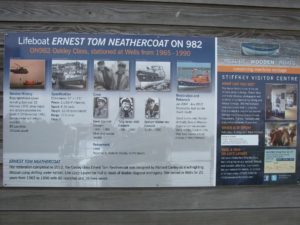 The board!
Driving onwards the next little port was Burnham Ovary Staithe. We had been to this little port before on another, but longer, jaunt into Norfolk.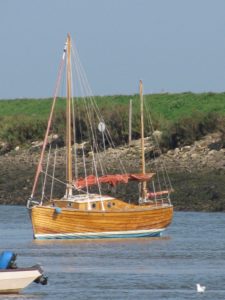 A sweet little varnished clinker ketch…
I love it for its still in use half-tide quay or Hythe. The creek is quiet and essentially a potterer's paradise. At the top of the staithe is an old barge's crab winch once used to winch boats up the shore – it had the look of a lost use and would surely one day end as scrap!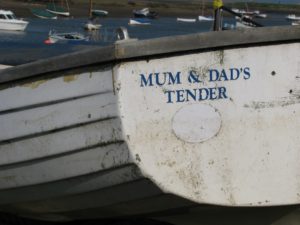 Loved this!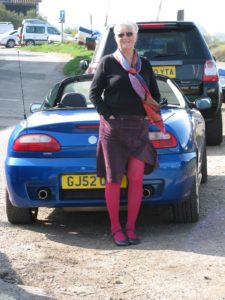 But my good Mate was waiting…
Our next stop was Brancaster Staithe. Here we both enjoyed some local crab sitting on a wall overlooking the little fishing dock. The dock has a flushing pool, but the outer edge has not been maintained and was clearly crumbling under the 'weight' of tidal forces.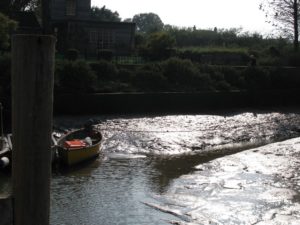 Brancaster Staithe with Christobel waiting patiently…
After wandering off, I found a delightful yet workmanlike little skiff. She was clearly in a sort of abandoned state, but intact.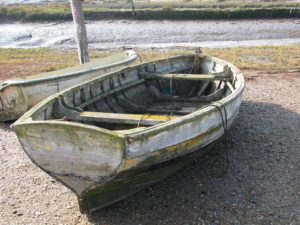 The little boat which clearly had a mast with a lug sail, perhaps…
I was looking her over and in the act of looking closely at her construction – flat planked bottom with clinker sides – when a sharp voice called out, 'What do you think you're doing … what do you want.'
I was a little taken aback by the bark, from a stern looking lady. 'Just looking,' I said nonchalantly.
'You're not taking anything are you?' she barked.
'Why would I', I asked, smiling, for it was clear I'd come across the angry local… I was right. I was then laid into about trippers, thieves and vagabonds from afar.
I said it was a shame the boat has been abandoned with a clear lack of attention over a long period. As the lady began to lecture me about 'mantenance' I stopped her in her tracks and said, as a wooden boat owner, I didn't need a lecture, and, that I was in fact someone brought upon the water who had a deep love for the coast etc…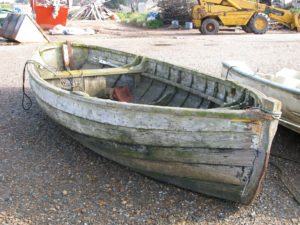 Two other views…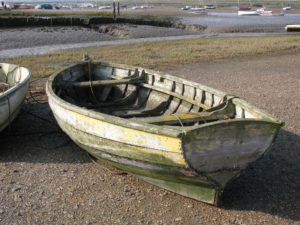 It transpired, after the lady had piped down, that the little thing is a Mussel Boat. She said the boats were grounded on the banks as the tide receded and loaded to return as the tide came back in. I told her about the way cockles used to be loaded in the same way in the Thames Estuary, but she wasn't interested…
Before we parted I asked the lady if she'd heard of the new BBC2 maritime programme coming soon – she hadn't. She shook her head…
I said, 'Watch it for you'll see me in it…' My subtext being: perhaps you'll understand!
I can honestly say I've never met anyone quite so rude on a waterfront. However, we both had had a lovely day and we chuckled over my lady as we swept inland…