Last weekend we sailed away from our home waters and made for Queenborough – it was my birthday weekend. I fancied a pie at the Old House at Home. Which we did, after sampling the brews at a new little mico-pub on the lane leading to the creek harbour.
Huge numbers of Dutch yachts were seen too. These have been arriving since the Bank Holiday weekend when Queenborough was full of them. They've been over for celebrations of the 350th anniversary of the Dutch raid on the Medway (Battle of Chatham to the Dutch). Essentially, since then we have been friends!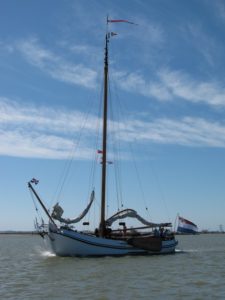 A fine old 'Dutchman' came in…
On the Sunday we sailed for Conyer, deciding to go up the creek that afternoon: it was due to windy from the west and the South Deep isn't the best anchorage in those conditions. We went to Conyer especially to visit The Ship for nosh on the 12th! It was good.
As a birthday treat we went for a hike inland along the high ground bordering the old creek running inland to Tonge, a sleepy village seemingly miles from the sea – yet, one day it could come flooding back.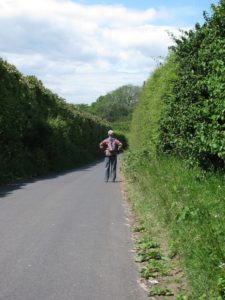 'Come on…' she called, 'I'm waiting!' My good Mate dwarfed by high hedges protecting fruit trees.
The western arm of Conyer Creek wanders inland from its sluice initially in a winding fashion. Then it straightens and wends its way to Tonge. We walked the wall to Blacketts by a farm track that also form part of the National Cycle Network – route 1. Leaving that we wandered dreamily down lanes with extremely high leafy hedges. The air was thick with scents. Behind many hedges were rows of modern fruit trees (bushes?) set to wires.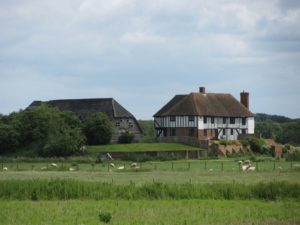 Tonge Court
Across the low ground we were skirting, for this road was once above the saltings fringes, was a Tudor timber framed house set above the low ground on a walled and buttressed mound. The lane leading to it was clearly marked 'No Access'! Shame. The bed of the old creek can be seen in the foreground.
Passing Tonge village church we came upon the old mill. A newer steam mill building with its chimney has survived too, converted, it seemed into flats.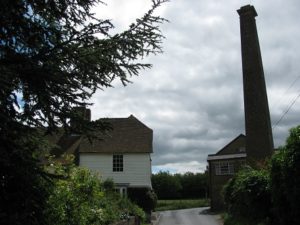 The Tonge mills.
The mill pools have been retained and trickle away, down hill, into the old creek bed.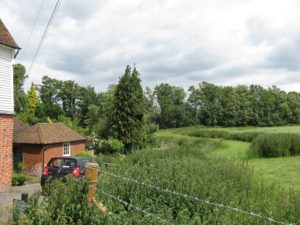 Tonge 'creek' running away towards Conyer's creek.
Passing under the London rail line we walked eastwards to the old tramway path back to Conyer from Barrow Green. It was an interesting potter inland, looking at what was once tidal, but now sweet Kent countryside… Some years ago we'd walked the eastern side of this area looking for an old wharf now set at the edge of a field between Teynham and Deerton Street, where, many moons ago a creek ran in.
It is interesting to note that, in effect, Conyer Creek is a man manufactured entity when 'he' tidied the land, drained it and walled it…
All through this period I was also 'working' for my publisher sent me a birthday present – the pdf (galley) copy of Rochester to Richmond to review and edit – final chance … it was nice of them. I'd been given three days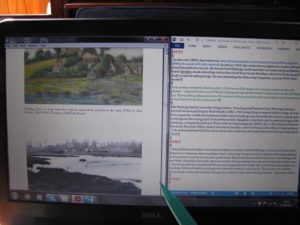 Galley copy and manuscript laid out on laptop screen…
Leaving Queenborough we had a night in Stangate before heading home, sailing through a myriad of Dutchmen who'd arrived overnight!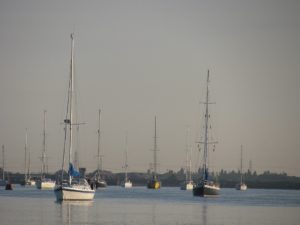 Boats arriving in the early hours … around 0500.
I'd like to think that others amongst the cruising fraternity take the time to look and wander. It brings you closer to the places visited…