A little while ago I had a 'discussion' with a Finesse friend about boat shows … I last went to a major show, around 15 years ago, I think! Once one has what suits them what is the point in wandering, aimlessly, around looking at row upon row of very expensive craft. Now don't get me wrong, I can appreciate craft of any sort: all have a purpose, if not beauty.
Beauty is in the eye of the beholder and although I appreciate GRP, it is not the be all and end all in the marine world. There are many craft out there manufactured using GRP which have sleek lines, good accommodation, go faster than most wooden or steel built craft and have a stated 'low' maintenance tag, but alas they're not my type of boating… There are motor craft too, some good looking, many not so, but all were designed and built by humans for other humans to enjoy and cherish, which they do…
So, having been invited by Anglia Afloat to attend the small boat show at the Wherry Hotel, Oulton, I went along. As 'we' were dropping family (over from Canada) off in Cambridge that weekend I accepted. The mate had quickly chucked details of an exhibition of East Anglian art at me too … so we made a weekend of it in Norwich – more on that later…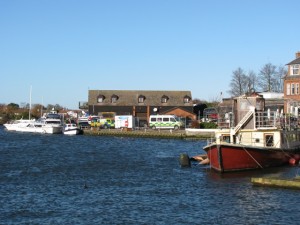 First the show: It was small, but there were a number of good stands within the hall. Outside there were a number of motor craft, cruisers and launches on display, but no sail craft, even of the Broads variety, which was a surprise. One thing the mate commented on was the public address … it was poor!
I managed to have a chat to Anglia Afloat editor Garth Cooper soon after arriving, even though he was clearly busy! One of the things Garth is doing, is to increase the regional content of the magazine, in particular the coastal scene and ensure the southern half, outside the Broads, is fairly represented. This is something that has been growing since it grew out of Norfolk Afloat under the editorship of John Lawson. Likewise, the magazine covers the inland waterways of west Cambridge and adjacent counties. This is all good. We are a great region of boaters and have at our collective disposal a far superior mix than our south coast cousins, for instance…
Garth wants to do another show down the coast in a spot that seems suitable to me … I'll leave the name drop out! It will be fairly central to the salt water sailors on the east coast … go for it Garth!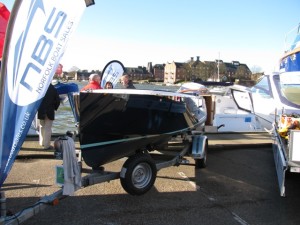 An English Harbour launch, above, and below, a simulated clinker launch – Corsiva – by Liberty Boats, who can be contactd at www.libertyboats.co.uk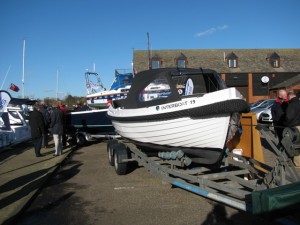 Anyway, I enjoyed looking at a couple of launches – pictures attached. And we ended up buying a new 'dinner' set for the boat: when I picked up a plate it actually had weight to it … being like a set we had for 28 years until being sent ashore recently … currently our replacement flimsy picnic type set awaits a desperate future! The mate very quickly made up her mind too: she is the check and balance of the team!
Below is brochure cover for Galley Ware – see them at www.ShipShapeGalleyware.co.uk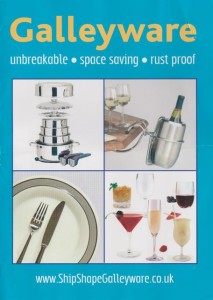 Overall, I found the show to have been interesting, but somewhat thin on the ground … water too. it can only grow!